Travel Agency & Tourism Management, Billing & Accounting Software
Online Invoices Software provides you with lots of benefits that can be very essential and pretty useful to your business needs, since it can provide you with many advanced features and tools to manage your travel agency, assists you to create invoices for tour packages and programs such as (internal & external tours), arrange meeting appointments with tourists, store your essential documents in a safe place, notify tourists about the latest updates/offers related to your business, follow up with tourist requests related to their flights and hotel accommodations, make professional accurate travel arrangements.
Create Invoices and email it to your tourists allowing them to be able to make the payments online.
Invoice your tourists/partner agencies and send them the invoices through mail, PDF or print them.
Receive your online payments by Credit Card, PayPal, Stripe or Bank Transfer (Cash).
Get notified about your invoices statuses whether if they were (Unpaid – Partially Paid).
Design your own invoice layout template including your travel agency's business details and logo to be in a perfect shape and professionally designed.
Mobile App in Arabic
PHPTRAVEL offers complete travel agency solutions for the purpose of travel agent booking. We provide great support for
Upload all the files, documents and notes of each tourist on a special file dedicated to him disclosing all the previously provided services and also the dates of his payments history.
Register and store in your archive all the documents disclosing the terms, conditions and the agreements applied with your partner agencies for future references.
Organize and run continuous follow up operations to ensure how deep your tourists are completely satisfied with your service levels being provided to them.
Specify and arrange the dates of the appointments and voyages in between your own employees and the tourists you are dealing with.
Email your tourists notifying them about the your latest updates and exquisite promotions through using our remarkable email templates feature.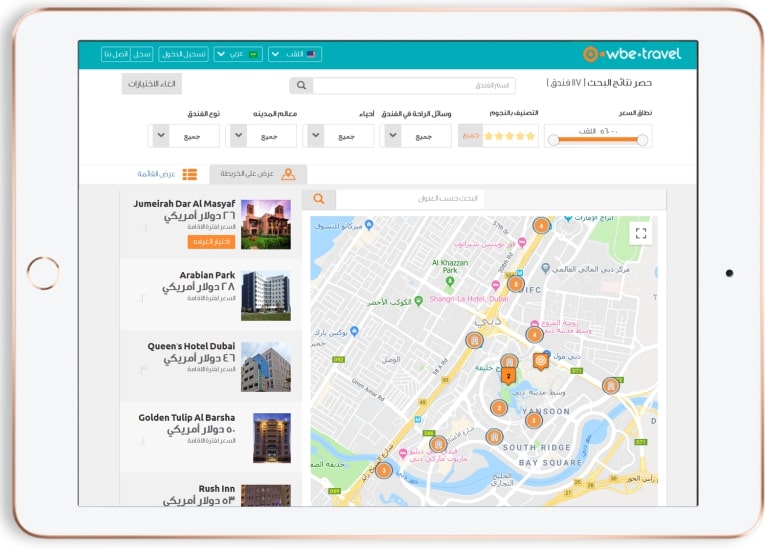 Manage your travel agency's accounting and calculate your profits & loss
Observe the most required offers/services which can be (Recommended Hotels- most interesting historical sites) requested by your tourists usually on continuous basis to make the biggest profits out of it.
Add your expenses (such as Transportation expenses – Crew Salaries), You can also monitor your income, expenses and calculate the net income of each interval through reviewing the profit and loss reports.
Distribute work tasks on your staff members and monitor their work performances.
Add your travel agency's staff on Online Invoices Software and grant them the permitted authorities according to their roles at the organization.
Assign each crew member to accomplish and fulfill the tour services/programs requested by the tourist and observe their performances through receiving advanced notifications delivering reports of how each crew member is performing according to the granted authorities permitted to him/her.
Integration
Integration
This module allows you to add any API's and ask your developers to manage the simple and understandable code for any changes needed for your organization by the time.

Key Takeaway
The script has many more benefits than these features and mainly it is about easing your business for you. The simple and single script can do wonders for your business. PHPTRAVELS is only making your business growth obvious.
Our company has solely designed the script to help people grow their business without any obstacles in their way. So, right now all you need is the $500 to purchase the script and install it to get started. Simple, efficient and reliable for all kinds of business. There are no limitations to the travel booking system, bus booking system or any other booking software that is the current requirement of your business.
We are here to cater to all your needs on time and help you grow your business with enhanced features offering more deals and discounts when you start generating more revenue for it.
What Are You Waiting For?
The investment is reasonable, support is there to help you through the implementation process or editing. What are you waiting for now? Avail the facility within an inexpensive rate and rock the world with your car rental business or any other. Manage your vehicles, drivers, bookings, and customers all through the single app and web portal.
More than 4000+ amazing customers worldwide
Success Stories

Pricing & Aggregation
With our multiple channel aggregation feature now we can get inventory from different API's with realtime pricing