php booking script for hotels airline flights tours cars online application
World's leading booking software
We offer the most cutting-edge online booking solutions on the market. Mobile, Tablet, Laptop & Desktop
Users enjoy a fully tailored experience while browsing our travel portal. we boast your travel business with our technology.
---
SUPPORT
Dedicated and expert support team to track, communicate and help youwith livechat, skype, whatsapp and ticket system in real-time 24/7.
OPENSOURCE
Developed using latest technologies, PHP, JS, JQUERY, HTML5, BOOTSTRAP And Codeigniter framework with HMVC coding pattern.
RESPONSIVE
Responsive themes for seamless full-blow user experience by managing steady look and feel of site across devices.
SECURITY
We take security seriously and back our product with a Security Bounty Program to encourage responsible disclosure by researchers.
FLEXIBLE
With our streamlined technology we give you unprecidented level of control. user-friendly fast easy to understand and manage.
MULTI-LINGUAL
Ability to add, edit or customize any language as per your requirements. RTL & LTR both versions available with editable option.
PAYMENT GATEWAYS
Supports with all the payment gateways carried by major e-payments to power your customers transfer payments hassle free.
CUSTOMIZATION
A flexible and powerful templating engine and many built-in options allow you to fully customize the system to your needs.
PHPTRAVELS Main Modules
Our extensive moduler system coverage will help you to use what you need
so you can focus on what matters most for you.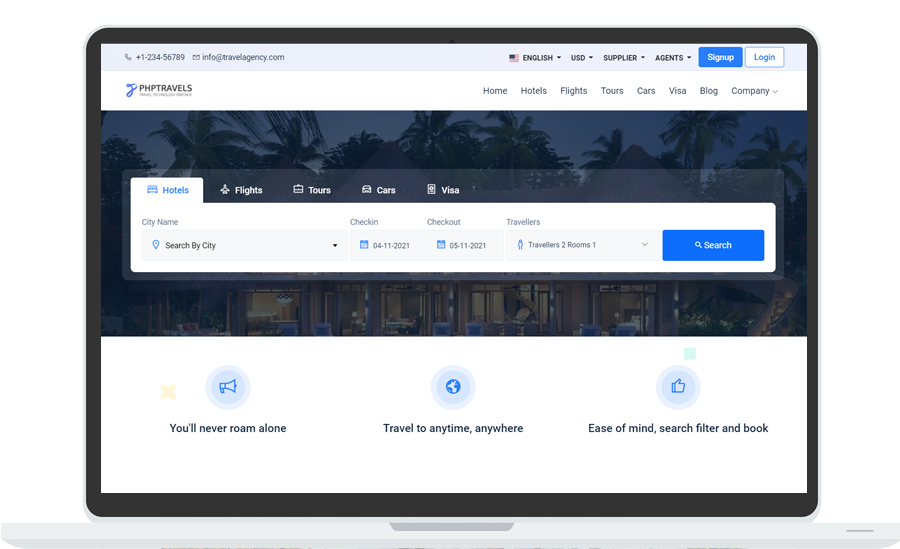 Our Products
Checkout below what applications we have and how do they operate.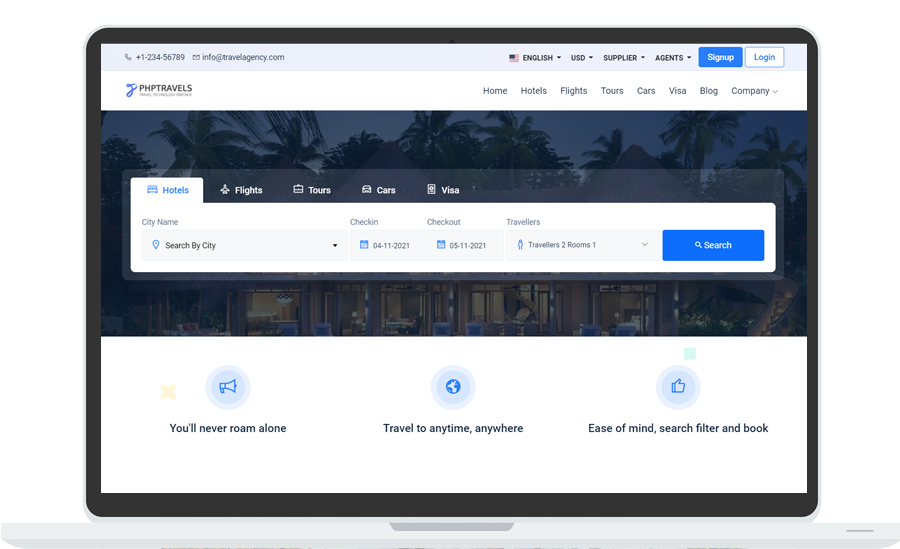 1. Web Application
PHPTRAVELS Standalone web application is the core software for complete online travel booking and management business. It has all management sections such as Site Administrator, Supplier, Client Panel and complete booking engine.
2. Mobile Application
PHPTRAVELS Phone application takes your business to next level and helps your customers to get their customers more satisfied and connect to book and manage their travel. It's necessary to have Standalone Web Application in order to use phone apps.
3. Desktop Application
Desktop Application helps you to manage your back-end more quickly with no further web browser needed. It's fast, secure and better than web browser. Your suppliers also will love to work with you by using this app to manage their contents.
Why PHPTRAVELS!
100% Open-source PHP Booking Script
PHPTRAVELS is a PHP & MySQL commercial solution for running your very own online booking business for hotels, tours, cars rental cruises, air tickets and much more.
---
Cross platform
We ensure your website performs across multiple platforms.
Flexible
With our streamlined technology we give you unprecedented level of control.
Easy-to-use
User-friendly front-end and back-end from search to booking process.
Expandable
100% open-source code and ready to extend at level of requirements.
Support & Services
You are in good hands.
Free updates same year
Absolutely 6 months free updates to stay updated and enjoy the latest versions.
Tickets Support System
Support available at working business hours via support ticket system.
No Hidden Charges
%100 Transparent business policy. you only pay for what you buy.