Expedia API Integration XML
Expedia api integration comes by default with our application.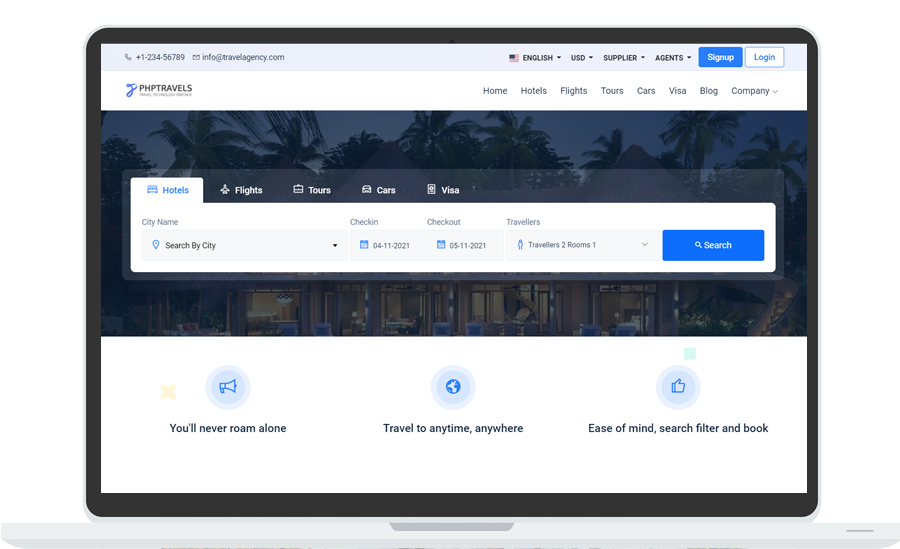 API XML Web Application
---
The ExpediaPHPTRAVELS Web Application is a robust software application that delivers information and availability for over 120,000 hotels worldwide where users search and book hotel reservations.
The application offers a wide variety of parameters that can target or filter a search for the most relevant list of available hotels for every user. A lot of details for each property can be pulled from descriptions, photo galleries, and nearby attractions. Reservations can be made directly through the API, or you can deep link to our customized white label site.
This is a relatively easy and quick process to get pre-builtExpedia integrated web application for online reservation.
Automatic Content Update: Integrating XML API based data communication system allows the update of inventory information (availability/pricing) automatically. All the agents and B2C users get the same seamless information. This also ensures easy maintenance since API owners maintain all the inventories and information seamlessly.
White label Solution: API Integration benefits the branding & marketing related initiatives as it hides the information about the actual provider, whose system is accessed to fetch the data. So, travel agents can sell the hotels with their brands, logo and contact information.
Customization: API is responsible for getting the required data from source, and once we have data, we can use it as per our requirements. We can also integrate multiple APIs into a single web-based system to bring the better inventory for the end users as well.
Benefits of Expedia Web App
---
Business platform with an Open Expedia XML API Integration helps you turn web traffic into manywebsites; bookings and happy customers, granting you access to one of the best travel inventories in the world. Expedia integration is perfect for travel organizations with active sales and extensive customer databases; travel websites; affiliated with large development and programming resources, and various business models with specific needs.
phptravels.com specialists will analyze the special aspects of your business and offer you the most suitable solution incorporating ExpediaPHPTRAVELS core services and data. What's more, all partners can localize and personalize the basic data using Expedia developer API resources. The process of searching for a hotel in another country on a global site often lacks differentiation and leaves visitors frustrated. Local affiliates can provide customers with better and more relevant information about the facilities in and around the hotels, in the area they want to visit.
Other benefits of Expedia API XML integration include greater flexibility and control, independent marketing and demographic research, the opportunity to choose and organize content to suit your business and to target local markets. Leave the heavy work Expedia XML API integration to us so you can focus on your core assets and customer service.

To find out more about how we can help you implement an Expedia API, please call or email us today for a free personal demonstration. A robust application that delivers information and availability for more than 120,000 hotels worldwide with rich content, reviews & ratings, where users search and book hotel reservations.
---
Live product data and bookings (Live XML or JSON)
All product data (descriptions, images, dates, prices, availability) and booking capability is available via a marketplace API in live XML or JSON format.
API Driven Reservation system
In the API based reservation system, hotel information is displayed in real time through the prater's API. By default, our application supports Expedia API to render result of searched information. When customer/visitor choose a hotel, the application takes him/her into ordering process; the application again checks if client desired route match with any of redefined way to show price. If it finds a route that matches with your database, it displays price to take booking, creates invoice and takes order. If customer search does not match with your database routes, it still takes a note and asks user to quote for desired routes.
Therefore, in short, the API based reservation system displays real-time status of available airlines, hotels, packages, routes, check-in time, arrival time etc. (through API) and invite customer to order and create invoice.
Affiliate API Benefits
Search for a hotel by city, category, hotel name, dates of stay etc
View detailed hotel descriptions
View price breakdown per day
View information on penalty charges
Send order comments to the supplier
Print out vouchers
Cancel hotel bookings
Book hotels through your website
Pricing & Aggregation
With our multiple channel aggregation feature now we can get inventory from different API's with realtime pricing